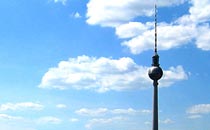 Events

. Berlin - July 2005



Berlin is in hectic preparations for the coming events next week. One highlight, for sure, will be the untitled exhibition as part of the Bread & Butter trade show. For this season, the guys from LDWN and STW2D have stepped up the game even further. Their new book, which is available with 4 different covers, features one of the biggest line-ups of contributors. All names you are/should be familiar with. At the show you'll also find a small store with all the goods you love (ever heard of 'Supreme' or 'Gimme5'?).

Outside of the tradeshow-business, the city itself will also hold some specials for you. Like the latest installment of Nort's Advertised Attitude campaign. Three new billboards will be spread across the Mitte district with graphic interpretations of the re-released Nike Zoom Spiridon by Stash, Errolson/Acronym, and... Check out the accompanying article in Liebling magazine.




Related

untitled book

Advertised Attitude