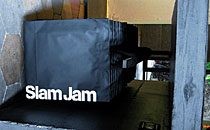 Retail

. SlamJam - Milan



If you have been looking for a SlamJam store in Milan you will finally find one there as of last Wednesday when this new space opened with a photo-exhibition by Boogie (note: SlamJam's first store is located in the company's hometown of Ferrara).

As we are noticing a seemingly unstoppable shift of sales from physical environments into virtual ones it comes as a welcome relief to see that some entrepreneurs are still pursuing their business in traditional ways. Upon entering the new SlamJam store one is immediately captured by an atmosphere where art and commerce have been carefully balanced out.

The selection of brands reflects SlamJam's clear focus - to provide customers with high-end contemporary casual clothing and accessories. Neighborhood, UnRivaled, Undercover, GDEH, Resonate - these Japanese brands dominate the current inventory list. While the markets are being flooded with unacceptable quality and poor design it is stores such as SlamJam who are opening up channels for such excellent products which otherwise would have never found their way to us. These efforts are even more admirable when considering the fact that in many cases the actual profits made are still marginal.

SlamJam Milan - via Pasquale Paoli.




Related

Slides


SlamJam