Stone Island Shadow AW '009 '010
31. July / Jörg / Fashion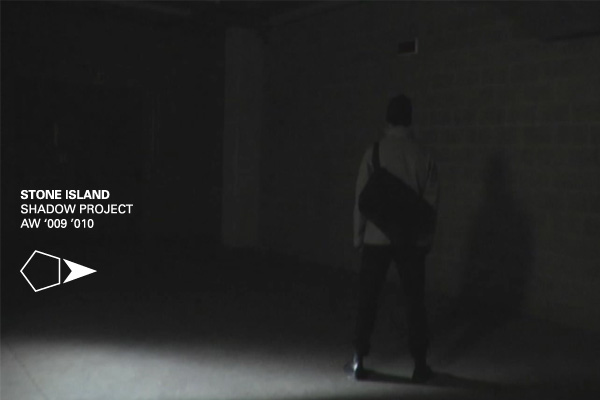 Stone Island Shadow AW '009 '010 Video
Video preview of Stone Island's Shadow Autumn/Winter collection.



This Video Feature was produced by Stone Island to showcase the Shadow collection for Autumn/Winter 2009-2010. The clip offers a comprehensive look at the various pieces in the Shadow PARSEQ (Proof Augment Resist Skin EQuip) GRID. What we see are "best-case" scenarios; perfect combinations from the GRID. Surely it would be interesting to see how people will be 'working with' these items in other set-ups, integrating them into existing/personal grids, in 'real life' situations. Maybe that's an idea for an upcoming story...

Stone Island Shadow AW '009 '010 / Runtime: 5:17 / full-screen
Click to pause the video; close the browser window to stop it.
View:

Video Feature |

Visit:

Beinghunted/YouTube

Moon
25. July / Jörg / Design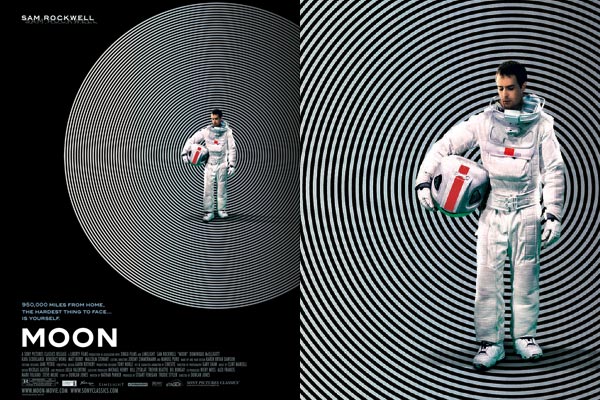 Moon - Movie Poster and Detail
Moon, a movie by Duncan Jones.



"Moon is the brand new movie by Duncan Jones. It's iconic movie poster features an astronaut in the center of white circles on black background. The astronaut has taken his helmet off."

... I'm joking - I just think this is a great poster that has surfaced in a stream of really bad and boring ones. It has a bit of a 60s flair to it. Too bad I haven't found it anywhere yet...
ViSIT:
Moon - Official Site

Feature: Stages, Paris - Emmanuel Perrotin
23. July / Jörg / Event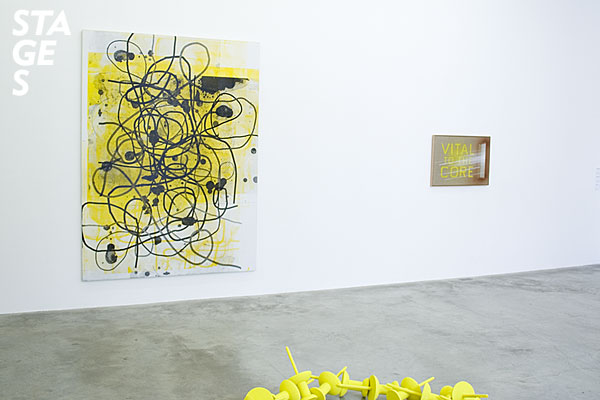 Stages, Paris - Galerie Emmanuel Perrotin
Stages Exhibition and Trip.



Last week Nike invited friends and media to Paris to preview the Stages exhibition organized to support the Lance Armstrong foundation.

More than 20 artists contributed artworks that were on display (and for sale) at Galerie Emmanuel Perrotin. The following is a photographic journal giving a few impressions of the show as well as the "behind the scenes" activities by our Berlin crew during this trip...
View:
Feature

Lance Armstrong & Nike: Stages
7. July / Jörg / Event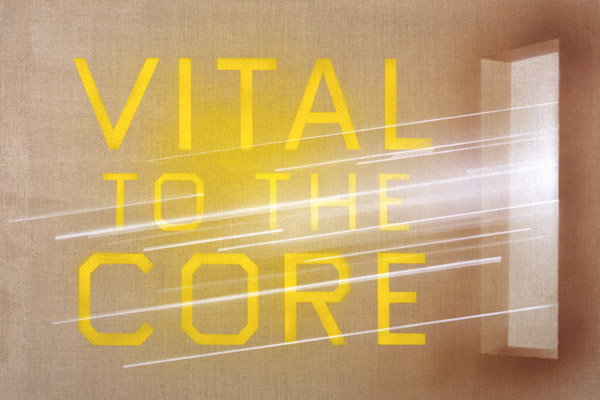 "Vital to the Core" 2009 by Ed Ruscha © Ed Ruscha, courtesy of the artist and Gagosian Gallery
Stages Exhibition in Paris at Galerie Emmanuel Perrotin.



This year, the Livestrong Project initiated by Lance Armstrong has already had a number of highlights such as the artist-designed bikes but also the various sneakers which have been released during the past couple of weeks. In July, the "Stages" exhibition will open its doors in Paris. Some of the world's most renowned artists were commissioned to produce pieces inspired by Lance and his fight against cancer: Andreas Gursky, Kaws, Geoff McFetridge, and Ed Ruscha amongst many others.

If you would like to visit this show, please check the details on the Stages website. And, yes, all artwork will be sold with profits directly benefiting the Lance Armstrong Foundation.
View:
Stages

Firmament Legion / Wing III
7. July / Jörg / Design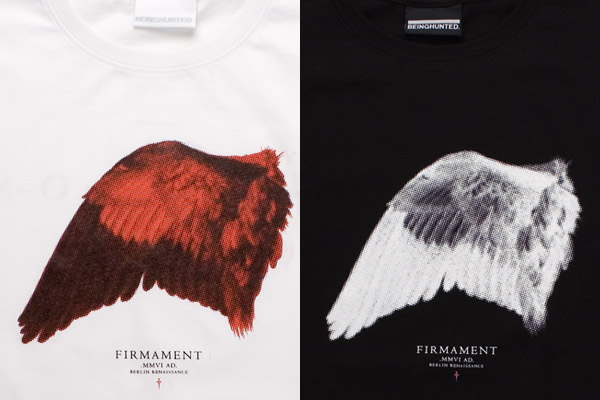 Firmament Legion / Wing III T-shirt
Firmament - 3rd Anniversary.



Each year we are releasing a new version of our Wing T-shirt for our shop's anniversary. This time we chose to work with a halftone print. You might have seen our "preview" version that we did for the NSW Footscape HF - on which we had flipped the designs. This one is the "original" now - with the wing on the front and "Legion" on the back.

The Legion / Wing III T-shirt is available from Firmament now and online from this coming Thursday.
Visit:
Firmament

BBC / Ice Cream A/W Preview
1. July / Jörg / Fashion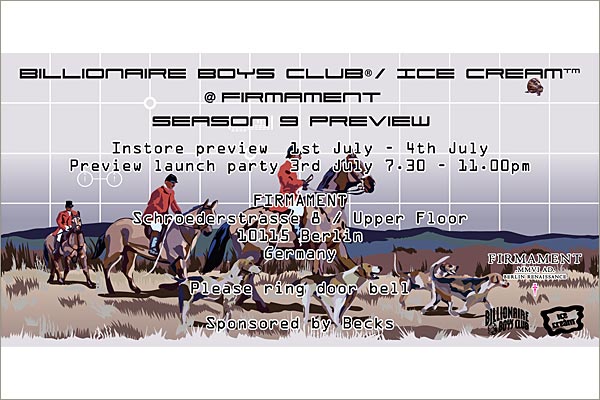 BBC / Ice Cream Flyer
BBC / Ice Cream A/W 2009 Preview at Firmament.



Join us for a preview of the upcoming BBC / Ice Cream A/W 2009-2010 collection at Firmament this week. On Friday we will also be hosting a small party at our store - see flyer above!

Looking forward to seeing you in Berlin!
Visit:
Firmament