Kollektiv Turmstrasse "Tristesse"
28. April / Jörg / Music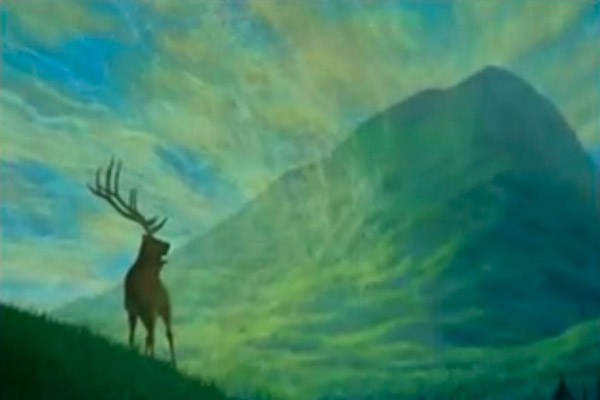 Kollektiv Turmstrasse "Tristesse"
Spring!

Thanks to a good friend of mine, I was reminded of this track by Kollektiv Turmstrasse "Tristesse" which captures the current mood rather well. Check out the video - did James Cameron get some inspiration from it...?
Visit:
Kollektiv Turmstrasse on YouTube

The Time and Space Machine
14. April / Adrian / Event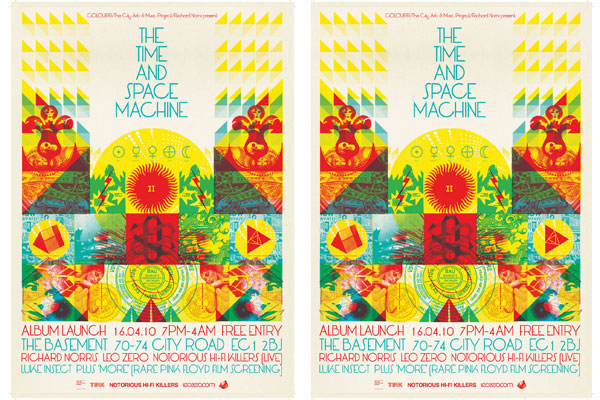 TTASM poster
The Time and Space Machine Album Launch at The Camp, City Road, London, Friday 16th April 2010 (free entry).

Richard Norris, one half of acclaimed psych-plunderers Beyond the Wizard's Sleeve, releases his first full-length solo album as The Time and Space Machine – Rough Trade 'Album of the Week'.

There have been four official The Time and Space Machine releases to date, including the mini-lps 'volume one' (2008) and 'volume two' (2009). As you may have gathered from the name, this project is an outlet for Norris's most flightily cosmic tendencies, anchored with rhythms derived from disco, Krautrock and slo-mo Balearica. "This is the first time I've made an album pretty much on my own", says Norris of the new, self-titled record, released by Tirk. "Apart from two days laying down drums with ace beatnik drum-lord Wildcat Will and a couple of vocal sessions, this record was pieced together solo over many months in a room beneath a castle in Lewes, Sussex, England. It's a different dynamic making a record on your own, and allowed the record to grow in its own particular way. After years collecting, releasing, writing and thinking about psychedelic music, I've finally put my formative influences onto a set of tunes".

HERE is a taste of what you can expect on the 16th of April! Arrive early to see the psychedelic film 'More' by Pink Floyd.

Join as a member first, then you can stream a fantastic mix by The Time and Space Machine from Sunday, April 11th.

Visit:

The Time and Space Machine | Set Phazer To Stun | TTASM at Myspace

Spectacle at Firmament
07. April / Jörg / Event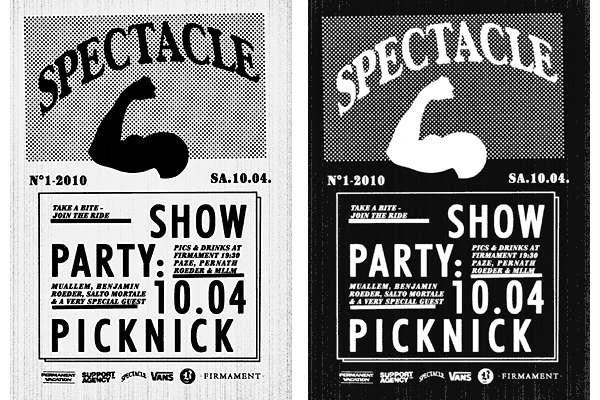 Spectacle Flyer
Launch Event of Spectacle at Firmament.

On Saturday, April 10th, we are hosting the Berlin launch of Spectacle a project by our friends Muallem and Benjamin Roeder from Munich. Stop by for fine music and drinks as well as artworks by the guys themselves, Denis Pernath and Paze.

Spectacle at Firmament / Sat. April 10th / 19:30 - 23:00

Drinks provided by Beck's & Absolut
Presented by: Permanent Vacation, Support Agency, Spectacle, Vans, Beinghunted, Firmament
RSVP:

Firmament at Facebook | Spectacle at Facebook

Barton Perreira: Del Rey Sunglasses
04. April / Jörg / Accessories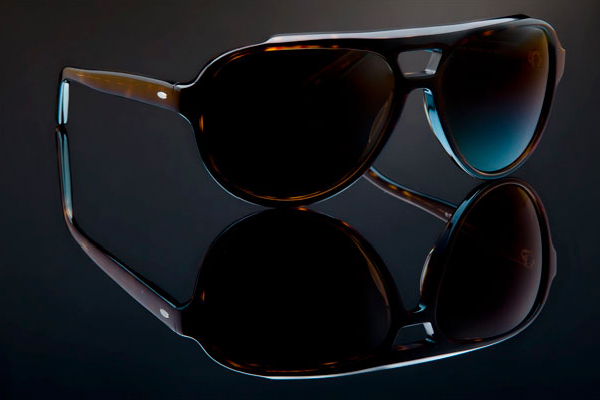 Barton Perreira: Del Rey
The difficult task of finding the right sunglasses.

Barton Perreira is a brand that I just learnt about yesterday when I was looking for a new pair of sunglasses. Since I don't get new ones every time the sun comes out - I've only bought four in 15 years or so - this sector is one that's new to me altogether. Apart from the shape there was no particular brand I had in mind. It took about 45 minutes to go through a wall that had around 300 styles on display to find the right ones - the Del Rey by Barton Perreira, a classic Aviator style but produced in zyl acetate. I do like the fact that they don't show any kind of branding or signature on the outside of the frame.

There are a few other styles that look interesting on the B.P. website, but after this purchase I think I won't dive any deeper into this subject.
Visit:
Barton Perreira

Firmament Blog
01. April / Jörg / Communication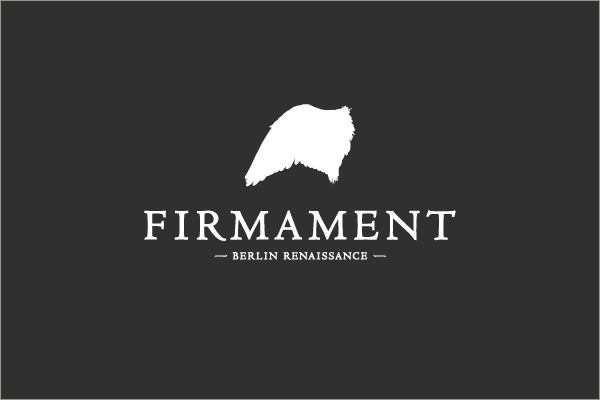 News from Berlin.

We just set up this blog for a new project that has been taking shape...
Visit:
Firmament Blog

WTAPS Pocket T-shirt / Pink Label
01. April / Jörg / Apparel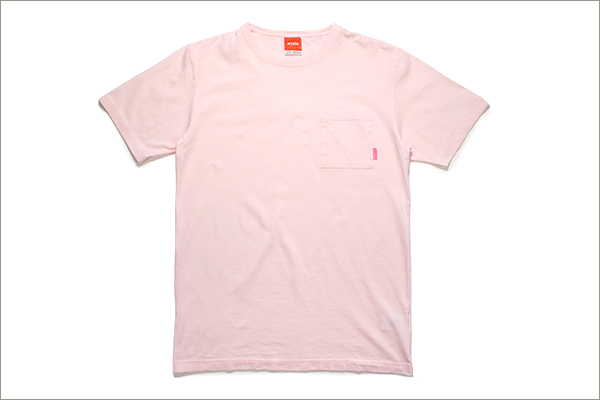 WTAPS Pocket T-shirt
Pink Label.

I am not sure whether it's a good thing that I get excited over such small things as this pink label on the brand new pocket T-shirt by WTAPS. When we saw the collection last year, there were a number of great pieces - outerwear, shirts, etc. - but this tiny detail stuck the most. In general I'm not a big fan of T-shirts in the summer but I guess that this one will be in heavy rotation in the coming months.

This and many other items from WTAPS S/S 2010 are now available at our store Firmament.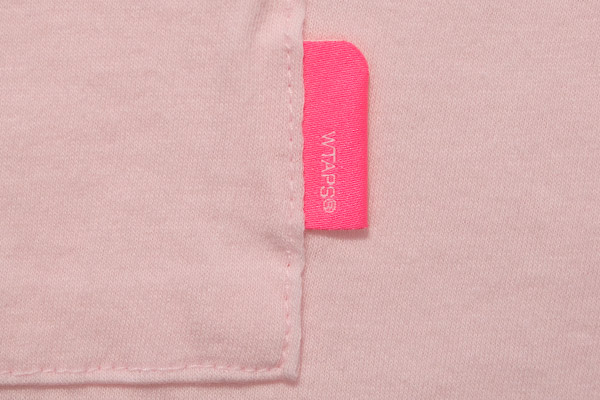 Visit:
Firmament